"Come in heroes! We don't want to alarm you but a huge scorpion is headed your way! With heavy spike-plate armor covering its body, power pincers, tail shooter and corrupted Quaza, this beast is going to make stopping Witch Doctor a whole lot harder!"
— Warning regarding Scorpio
Scorpio
Species Information
Status
Common
Location
Quatros
Colours
Black, Lime and Red
The Scorpio were always considered rare on Quatros. When the Witch Doctor arrived on the planet, he found some and quickly installed the dreaded Quaza Spikes onto their backs in order to control their each and every movement.
Characteristics
Edit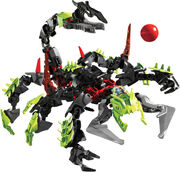 Gadgets and Abilities
Edit
They like to crawl through tight spaces, despite their huge size, and surprise their prey with a lightning-swift strike of their stinger tail. To stun more distant targets, Scorpio uses its tail-mounted ball shooter so it can approach without danger to itself. The heavy spike-plate armor protects it from most other predators on the planet.
Personality
Edit
Scorpio has been implanted with a corrupted Quaza core and is controlled by thoughts from Witch Doctor. Highly intelligent, Scorpio detests being forced to protect the Quaza thief, but Scorpio has no choice but to do the mad professor's bidding.
Set Information
Edit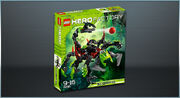 Scorpio is set for release in Summer 2011.
Scorpio is set number 2236.
Scorpio contains 104 pieces.
Ad blocker interference detected!
Wikia is a free-to-use site that makes money from advertising. We have a modified experience for viewers using ad blockers

Wikia is not accessible if you've made further modifications. Remove the custom ad blocker rule(s) and the page will load as expected.