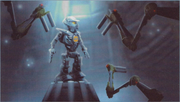 The Refitting Tower is located in the Assembly Tower in Makuhero City. This is where a Hero is sent to if they are in need of specialized equipment for a mission. Despite the redundancy of calling this place a 'tower' when it is inside a tower, the location inside depicts a hero rising to the top of the building and ready for action. It is mentioned in the twelfth episode of Hero Factory FM that a hero is refitted in less than a few minutes, even seconds at times.
This is also where Heroes are constructed for the very first time where large mechanical arms piece together the skeleton and Hero Core of a robot.
Heroes Who Were Refitted
Edit
Ad blocker interference detected!
Wikia is a free-to-use site that makes money from advertising. We have a modified experience for viewers using ad blockers

Wikia is not accessible if you've made further modifications. Remove the custom ad blocker rule(s) and the page will load as expected.