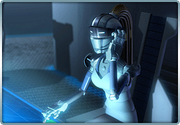 Lucy is an employee at the Hero Factory Call Center.
Though often a character put off the to side, Lucy has appeared in numerous ads for Hero Factory. She is the generic female caller bot who helps people all over the galaxy in need. In the Hero Factory TV Show, Lucy appears once in HF001 and informed Zib that someone had broken into the explosives plant. Again we see Lucy in the game Mission: Von Nebula where she provides missions for your character created in Hero Creator to go one.
This fembot may not be important enough to warrant even a side-character plot, but she is seen in the background of many HF promotions.
Ad blocker interference detected!
Wikia is a free-to-use site that makes money from advertising. We have a modified experience for viewers using ad blockers

Wikia is not accessible if you've made further modifications. Remove the custom ad blocker rule(s) and the page will load as expected.