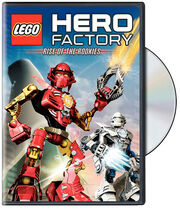 Hero Factory: Rise of the Rookies is a compilation of the four Episodes of the Hero Factory TV Show. It was released November 16, 2010!
LEGO Hero Factory Rise of the Rookies follows the adventures of six Heroes as they begin to work together to complete missions. Alpha team leader and the toughest Hero at the Hero Factory, Stormer, along with his crew members Bulk and Stringer have been assigned to train a new Rookie team made-up of Furno, Breez, and Surge who are trying to prove to Stormer and each other why they are ready to become true Heroes. But things take a dramatic turn when the Heroes realize that the evil villains they are fighting against are actually working for someone in Stormer's past and plotting to take down the Hero Factory!
It all began years ago when Stormer was just a Rookie. While on a dangerous mission, their leader was wounded and it was put upon Stormer and his fellow Rookie, Von Ness, to save the city. But when Von Ness deserted him, Stormer was forced to go into battle alone. Stormer succeeded that day, just like he has on every mission since then, but he still carries around the feeling that something is left unfinished.
Appearances
Edit
Ad blocker interference detected!
Wikia is a free-to-use site that makes money from advertising. We have a modified experience for viewers using ad blockers

Wikia is not accessible if you've made further modifications. Remove the custom ad blocker rule(s) and the page will load as expected.