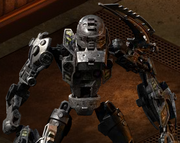 Heat Wave is the seventh Mission given to you by Zib on the game Mission: Von Nebula. The Boss is Thunder.
Description
Edit
You are met by three Fighter Bots, one Red Bot and a Healer Bot. You are then attacked by five Fighter Bots. They will appear weather you have beaten the previous lot yet or not. Then another group will appear with three Fighter Bots, one Healer Bot and a Red Bot. You will be quickly attacked by three Fighter Bots and two Shooter Bots. Soon after five Fighter Bots will come and then three more Fighter Bots, one Red Bot and one Healer Bot will arrive. Five Fighter Bots will come and attack. Once they are all down the area is cleared and you can move to the next area.
You will be faced against Thunder, once he is downed go to the next room and use the computer. You will link up with Zib and your job there is complete.
Characters
Edit
Ad blocker interference detected!
Wikia is a free-to-use site that makes money from advertising. We have a modified experience for viewers using ad blockers

Wikia is not accessible if you've made further modifications. Remove the custom ad blocker rule(s) and the page will load as expected.