None as of yet.
Friday December 3, 2010 - We Dig a Bit Deeper At Hero Factory 2011
Edit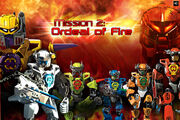 Well, I have been trawling the internet looking for Hero Factory information and I have stumbled across a few images. To the right you can see one that member Matoro1 has found.
This seems to be the sequel to the game, Mission: Von Nebula.
Below you can see all of the early 2011 Sets. They include:
Monday December 6, 2010 - HeroFactory.com gets a worthwhile update!
Edit
The Products area has been updated with new information on the 2011 Sets. There are some new awesome animations of the sets too!!!
Also revealed is a Kanoka Club version for Hero Factory. Underneath each lid is a unique code with which there are awesome 'goodies.'
Monday December 6, 2010 - Podcast 11
Edit
Once more there has been another Podcast. We've hit double figures now for the number of podcasts. Listen to Natalie Breez's response to 'Hero Factory: The Musical' and Zib dives into the mail bag.
Ad blocker interference detected!
Wikia is a free-to-use site that makes money from advertising. We have a modified experience for viewers using ad blockers

Wikia is not accessible if you've made further modifications. Remove the custom ad blocker rule(s) and the page will load as expected.