The winner of this competition was Matoro1. The competition has now closed.

What to do
Edit
When you are submitting a MOC, post it on the talk page.
Make sure that you either post an image or a link to an image.
Ensure that the links aren't broken.
Please guys, only one entry per user.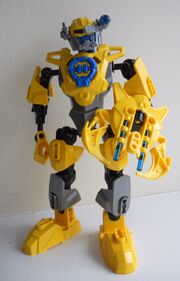 What to include
Edit
Your MOC must have what all Heroes have, the Hero Core and appropriate armor for a Hero.
Only use NORMAL Bionicle or Hero Factory pieces, no other pieces.
You may use Bionicle Masks or Helmets.
You may include Jetpacks and any other equipment.
You may only vote ONCE and you must sign in.
Voting will start March 11 and end April 10.
Ad blocker interference detected!
Wikia is a free-to-use site that makes money from advertising. We have a modified experience for viewers using ad blockers

Wikia is not accessible if you've made further modifications. Remove the custom ad blocker rule(s) and the page will load as expected.